Home Page


About the Torske
Klub
Where we Meet
Directions
Officers
Reservations
Speakers Requested
Current Newsletter
History
Photo Albums
Past Meetings


Frequently Asked
Questions
Other Links
Ask Sven & Ole!
Norway News
Contact Us


Weather in Chicago and Norway


The Chicago Torske Klub
Search this Site

Join us now on Facebook
If you ever find yourself in Chicago the second Saturday of the month, and you have a craving for some Torsk, the solution may be a visit to the Chicago Torske Klub. - Stavanger Aftenblad - 26 May 2006
Welcome to the Chicago Torske Klub Web Site at torskeklub.org! It's good to be in Chicago on the second Saturday of the month. We will update this monthly for current events and dinner meeting news.
May 7, 2022 - Dr. Ray Newgard - Remembering 62 Years of Torske Klub
We were pleased to welcome our last charter member, Dr. Ray Newgard,on the 62nd anniversary of our own Torske Klub. This group was founded on May 1960, and has hosted many notable speakers from business, entertainment, government and the Norwegian American community. Who better to recollect this tha a man who has seen it through these 62 years?
This meeting was video recorded and although the recording is a bit rough in places, it is available for viewing online here.


A PDF containing the slides presented is enclosed here
April 9, 2022 - Bjorn Rektorli - Viking Boat Update
We thank Bjorn Rektorli, who is the president of the Friends of the Viking Ship, as well as the Norwegian American Chamber of Commerce - Chicago Chapter. Along with Dave Nordin, who in on the FoVS committee, he gave us an update on the status and the future of the Viking. The Viking is an exact replica of the Gokstad. In 1893, under Captain Magnus Andersen, she sailed across the Atlantic (from Bergen, Norway to New York) and on to the World Columbian Exposition in Chicago (via the Erie Canal and Great Lakes). It was based in Chicago for decades, and moved to Geneva IL for conservation.
Please note that this luncheon price has risen to $35, as in the last month.
Future of Meeting Locations of the Chicago Torske Klub
A vote-poll was taken in March to gather opinion of the locatioon of our luncheons. The votes were received and tallyed on March 12. The Elks site was chosen to continue for future luncheons, by a reasonable margin. Detail will be in the monthly letter.
March 12, 2022 - Terry Sullivan - Scout for Boston Red Sox on Father/Son/Daughter Day
We were honored to have Mr. Terry Sullivan speak to our collective luncheon including special guests of fathers, sons and daughters. Terry retired as a teacher and baseball coach in the Lyons Township in 2000. Beginning in 2003, he traveled Illinois and the Midwest as a scout for the Boston Red Sox, evaluating promising players from behind the backstop of countless high school and college diamonds. He also founded the Walk Chicago Tours in 2004.
Please note that as of this luncheon, the price of each luncheon was risen to $35. Please review the monthly letter for details.
February 12, 2022 - Honorary Norwegian Consul on Ladies Day
Our February luncheon has been our yearly tradition for Ladies Day, where all are invited to dine with us. Our Honorary Norwegian Concul in Chicago, Susan Meyer has agreed to address our assembled group this year.
We were notified in January that the requirements of Cook County has required our hosts at the Elks Club to check for Covid Vaccinations at the door, and refuse service to those that cannot comply. As before, watch here and in emails as anything changes in regulations and make your reservations accordingly.
January 8, 2022 - Logan Sqaure History on Sweater Day
This new year kicked off with our sweater day. Our podium this month featured Andrew Schneider of the Logan Square Preservation Group discussing the new book and images from the history about Logan Square. This neighborhood was a landing point for Norwegian immigrants 100 years ago, including notables such as Knute Rockne. In fact, Logan Square was the origin of our own Chicago Torske Klub in the elegant site of the Norske Klubben at Kedzie and Fullerton.
This was sweater day, wear you favorite sweater. We planned to take a yearly photo, but the Covid restrictions limited many members, so we'll wait.
December 11, 2021 - Christmas Celebration
Our annual Christmas celebration hosted by our good member elf David Langseth with accompaniement by Kathleen West.
November 13, 2021 - Vasa Park
We heard from our good member Bruce Carlson, who volunteers and represents Vasa Park along the Fox River in South Elgin IL. Vasa Park was founded by the Swedish community in the 1950s and by 2003 incorporated with participation from groups representing 5 Nordic countries: Sweden, Norway, Denmark, Iceland and Finland.
October 9, 2021 - Cryptocurrency
Most of us cannot listen to the financial news without hearing about Bitcon, Etherium, and other cryptocurrencies. The second luncheon of this season featured our own Ken Larson, who spoke about the nature of cryptocurrency and blockchain, the technology behind it and its advantages and disadvantages. Ken retired in 2020 from Hewlett Packard Enterprise, a leading provider of technology and services.
September 11, 2021 - September Luncheon - ITS A GO
As the board had met online in late July 2021, we all agreed that were are readly to restart in September. A speaker is lined up for October, but since we will not have met for almost a year and a half, we decided to pass the microphone and have each member greet the others and reintroduce ourselves with brief news. We got as far as two people before the time expired. We will have to try again in the future.
We continue to watch the COVID-19 situation. We are obligated to follow state and local rules for separation and masking if needed, as well as any requirements of the Elk's Club on the day of the luncheon. We know that the elks are anxious to see us, and we understand that seating may be a little more spaced for them and us. We rely on your good judgement at the luncheon.
Torske Klub Members - January 2020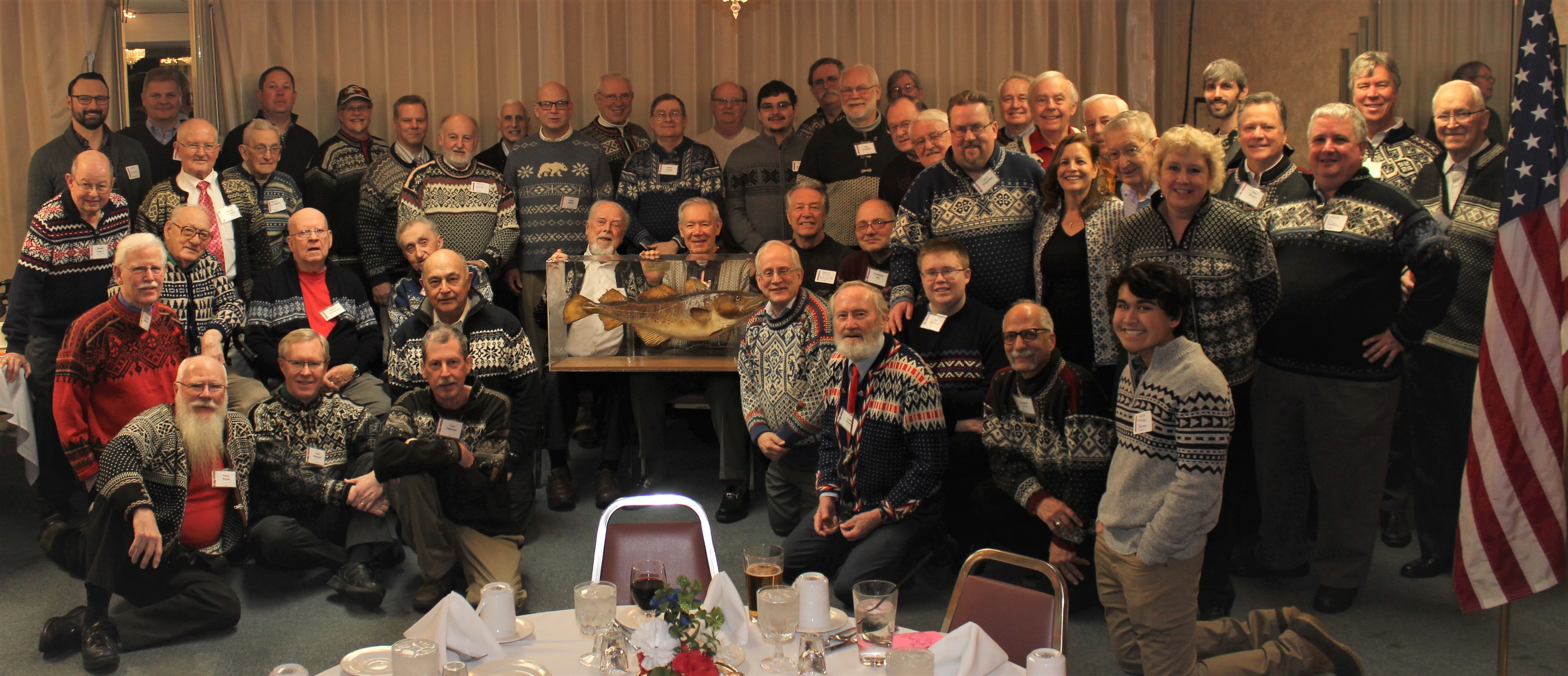 The NEW reservation line as of Sept. 2017 is (847)886-4841 . Leave a message with reservations noting name, member number and number of reservataions.
Alternately, send an email to reservations @torskeklub.com
See some photos in our picture book.
Special Items
Future events are our Saturday luncheons, every 2nd Saturday of every month that contains the letter "R", plus May. Watch our site or Facebook for schedule changes.

September 11, 2021 - Luncheon Rebooted - New season
October 9, 2021 - Luncheon - Cryptocurrency - Ken Larson
November 13, 2021 - Luncheon - Vasa Park - Bruce Carlson
December 11, 2021 - Luncheon - Christmas party
January 8, 2022 - Luncheon - Sweater Day - with Andrew Schneider of Logan Square Preservation
February 12, 2022 - Luncheon - Ladies Day - Hon. Norwegian Consul General - Susan Meyer
March 12, 2022 - Luncheon - Father/Son/Daughter Day - Terry Sullivan- Red Sox Scout
April 9, 2022 - Luncheon
May 7, 2022 (Note Change in Date) - Luncheon- 62nd Anniversary of the Chicago Torske Klub - Recollections
May 14,15, 2022 - Weekend of various Norweigan Constitution Day events
June, July and August we fish, golf and enjoy the summer.

Note to all Torske Klub Members:

By resolution of the Board of Directors, the Torske Klub will provide a single, free raffle ticket to all members who bring one or more guests to a meeting, excluding father/son and ladies day.

Use the menu on the left to navigate the website.

Indicates a PDF file which may be read by the free PDF reader download from Adobe at http://www.adobe.com

| | |
| --- | --- |
| | |