Home Page


About the Torske
Klub
Where we Meet
Directions
Officers
Reservations
Speakers Requested
Current Newsletter
History
Photo Albums
Past Meetings


Frequently Asked
Questions
Other Links
Ask Sven & Ole!
Norway News
Contact Us


Weather/Time
Chicago

Oslo
Bergen
Tromsø
Stavanger
Ålesund
Svolvaer


The Chicago Torske Klub
Search this Site

Join us now on Facebook
If you ever find yourself in Chicago the second Saturday of the month, and you have a craving for some Torsk, the solution may be a visit to the Chicago Torske Klub. - Stavanger Aftenblad - 26 May 2006
Welcome to the Chicago Torske Klub Web Site at torskeklub.org! It's good to be in Chicago on the second Saturday of the month. We will update this monthly for current events and dinner meeting news.
Stay Safe this Summer
We continue to watch the COVID situation. T
September and October 2020 - Luncheons CANCELLED
By concensus of the board, tboth the September and October Luncheons have been canceled.
We will update by our communications on the web, letter and email for future events and the board will reconvene in October for future plans. Stay home for now and stay healthy.

Dues note for 2020 - Dues Suspended for now
We usually collect dues starting in October. That is suspended for now pending our ability to meet. You'll get a request when we start again.

Torske Klub Members - January 2020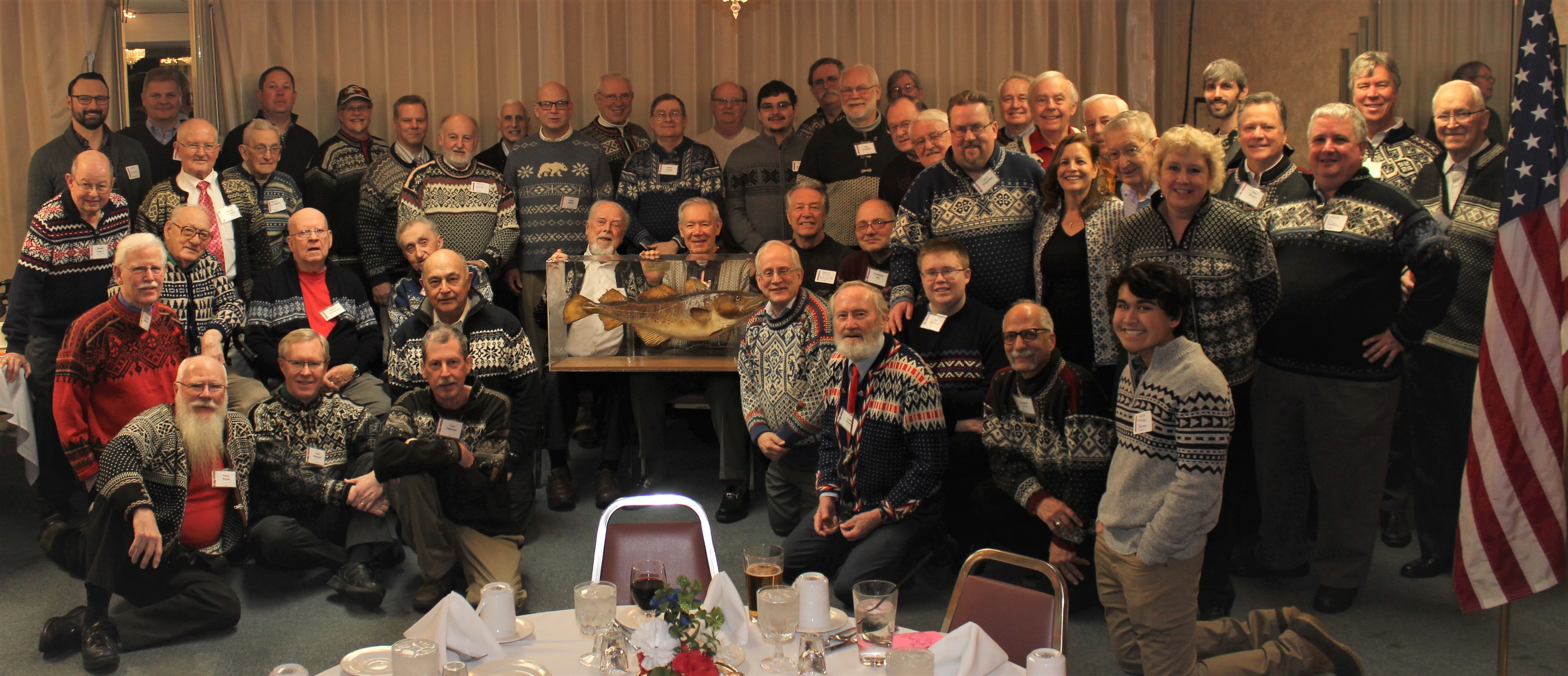 The NEW reservation line as of Sept. 2017 is (847)886-4841 . Leave a message with reservations noting name, member number and number of reservataions.
Alternately, send an email to reservations @torskeklub.com
See some photos in our picture book.
Special Items
Future Events

2020-2021 Season
Future events are our Saturday luncheons, every 2nd Saturday of every month that contains the letter "R", plus May. Watch our site or Facebook for schedule changes.
September 12, 2020 - Luncheon CANCELED
October 10, 2020 - Luncheon CANCELED
November 14, 2020 - Luncheon
December 12, 2020 - Luncheon- Christmas Celebration
January 9, 2021 - Luncheon - Sweater day- wear your favorite sweater
February 13, 2021 - Luncheon - Ladies Day
March 13, 2021 - Luncheon - Father, Son, Daughter Day
April 10, 2021 - Luncheon
May 8, 2021 - Luncheon- 61st Anniversary of the Chicago Torske Klub
Note to all Torske Klub Members:
By resolution of the Board of Directors, the Torske Klub will provide a single, free raffle ticket to all members who bring one or more guests to a meeting, excluding father/son and ladies day.
Use the menu on the left to navigate the website.

Indicates a PDF file which may be read by the free PDF reader download from Adobe at http://www.adobe.com
| | |
| --- | --- |
| | |